Fly-In Northern Pike Fishing at it's Best
Throughout Saskatchewan, Northern Pike go by many names including hammer handles (small pike), slough sharks, and slimers. But the scientific name, and the English translation are the most accurate. The latin "Esox lucius" translates to "Water Wolf", we believe a fitting title for this hungry predator of our northern waters.


This predatory nature is what makes Northern Pike such an outstanding game fish. They are aggressive and they sure act like they don't like being caught. Thrashing from side to side and making long runs when the boat comes into sight, don't make the mistake of letting up on the tension before your trophy fish is landed.


In our cool northern lakes, the fish grow more slowly than in the southern ranges of Saskatchewan, but with an extremely low level of fishing pressure, most fish never see a hook and the lifespan in these cooler water is longer allowing the big pike to get bigger. Pike that may live for 10 to 12 years further south may live past 20 years in our fishery and in that time, well, 40" plus pike become abundant.

Northern Pike Fishing Tackle Tips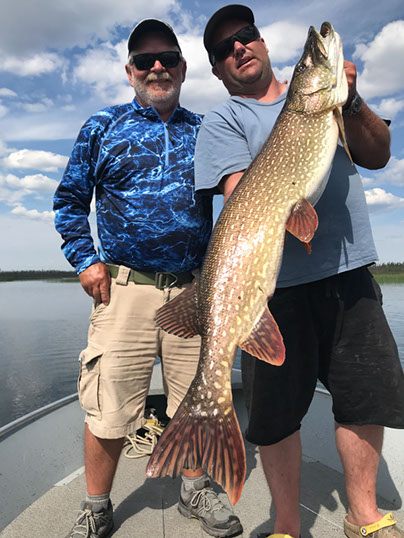 These tips are meant as a guideline only. Most of you will have your favorite equipment and lures that you know work well. We have an excellent assortment of tackle at the lodge so if there's something that you are needing once you get up here, or have forgotten, don't worry. We probably have it!
Rods
6' to 7'medium to heavy action spinning or baitcasting with appropriate reels
Line
We highly recommend braided line, 30 to 65 pound test. Leaders should be 12" long, 30 to 80 pound test, and can be steel, titanium or fluorocarbon (flouro leaders should be 80 - 100 pound test)
Lures
Spoons – ½ oz to 2 oz, in a variety of colours

Weedless spoons - Johnson's Silver Minnow, Rapala Spoon

Spinnerbaits – Mepps, Blue Fox, Butchertails, and safety pin style.

Swimbaits, Jerkbaits, crankbaits, and topwater baits are all effective. Typically baits in the ½ oz to 2 oz range work well.

Soft plastics – Sluggo's, Flukes, plastic worms, etc
Flyrods
9 or 10 wt rods with WF floating lines. Sink tips can be advantageous under certain conditions.
Flies
Large streamers in a variety of patterns and colours, poppers and other topwater patterns can be a lot of fun at times.
An old Scotsman once said, "If you're not fly fishing, you're not really fishing". We are fans of that sentiment and if fly fishing is your passion, then fly fishing for big Northern Pike might need to be at the top of your bucket list. Pike are voracious predators, striking aggressively at just about anything that looks like food and big streamers are definately on their list of things to attack. We can help you pick out the streamers that work best in these waters, you bring the muscle to fight back when that Water Wolf starts the fight.

It's hard to describe the thrill of big Northern Pike head-shaking at the end of your fly line. But we gave it shot any way. Check out the Fly Fishing for Pike page below.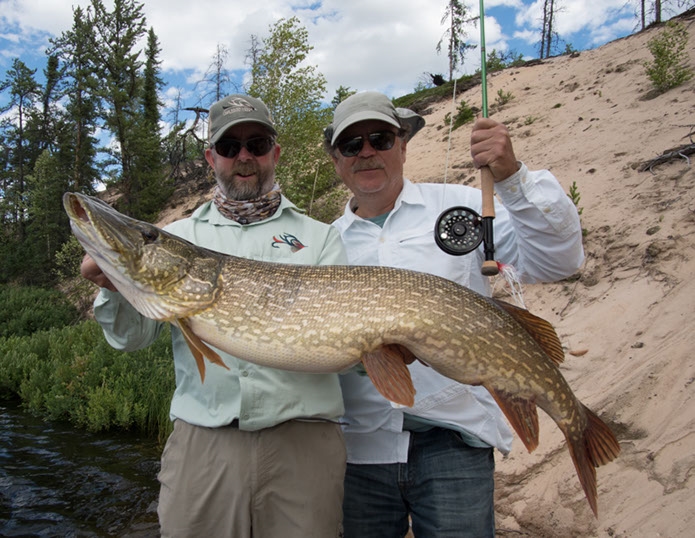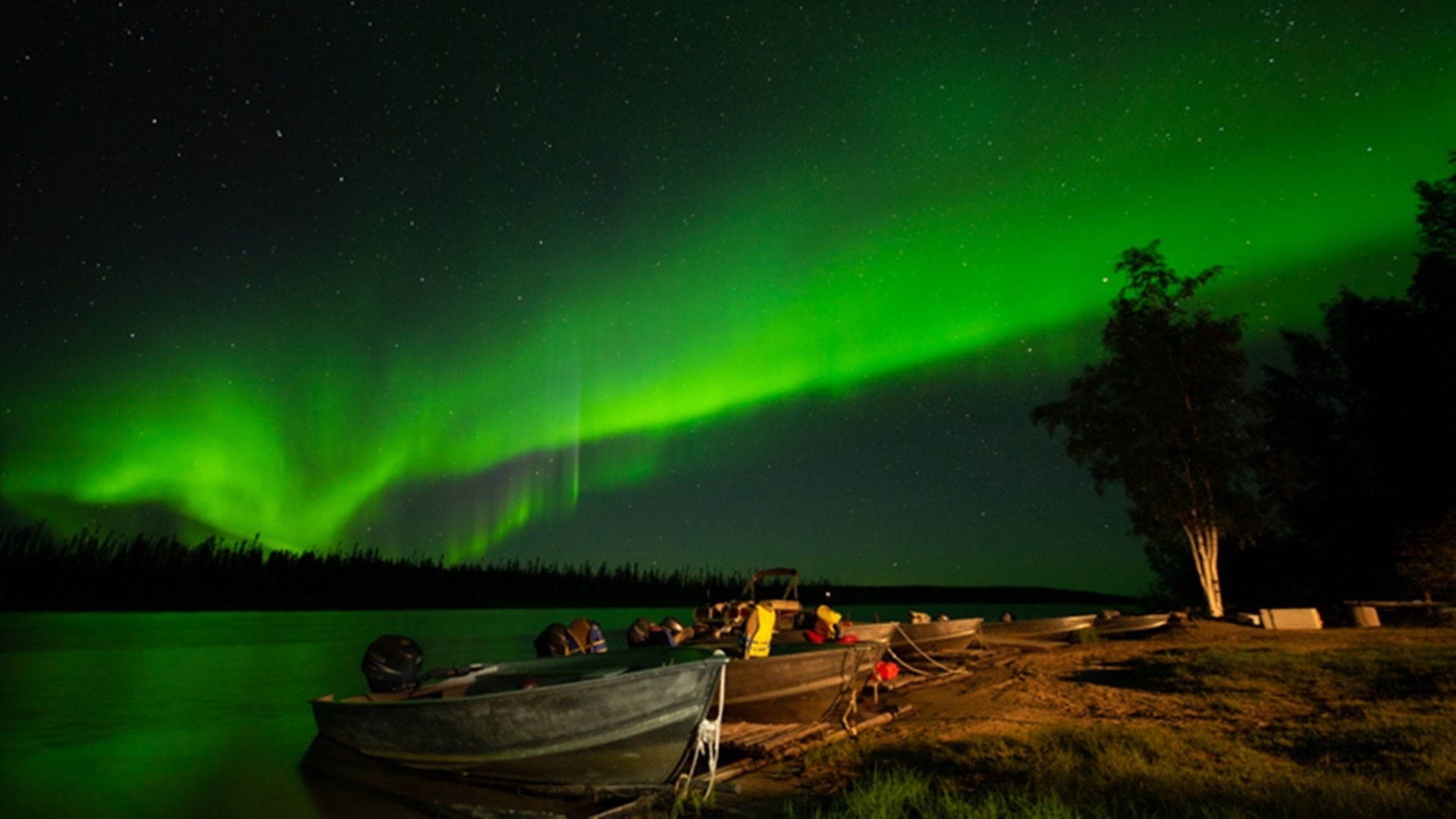 "First class accommodations and guides. Biggest Pike caught in 40 years (45"). The food was amazing."
"Fantastic week! Pike, Walleye, Grayling were all a blast. Team Cree River Lodge were all awesome! Thanks to all, greatly appreciated."
"First time fishing in 25 years, you guys made it so easy. Awesome people, great food and a super time. Hope to be back."
"Great lodge, great staff, great guides, and most importantly, great fish!"
"Hoy muchas pescas, no? Great guides, staff, fish. Thank you for the memorable week!"
"Amazing trip, tons of fish. Amazing staff and lodge. Dunes was a great day trip. Will be back, thanks all."
"Awesome times on the lake and at the lodge. Big fish. Thanks to all the staff at Cree River Lodge. River trip to the sand dunes was amazing and huge Jack on the river!!"
"Cree River Lodge is fantastic!! The only place in Canada where the fish bite better than the mosquitos!!"
"Good times, great fishing. Had a blast! Great meals and guides. Thanks for everything, especially the 45.5" Jack!"
"As an outdoors writer for the past quarter century, I've had the opportunity to fish a great deal of water with a great number of people, from the far north to Mexico. I can truly state that never have I spent time with better, more experienced anglers than the folks at Cree River Lodge. I felt comfortable from the moment our boat touched the dock at Cree River until; sadly it was time to depart. The fishing, food and hospitality were top notch and I am eagerly awaiting round two with those big pike and walleye."
"I have fished a lifetime to catch the quality of fish I battled with at Cree River Lodge. The pike fishing is so insane I had to make time to fish for walleye and arctic grayling—I love first world problems like these."
"I have been in outdoor media industry for 11 years, and in that time I've been able to travel to some amazing places to fish. But I can say that of all the incredible locations I've visited, none has stuck with me more than Cree River Lodge. I have an insatiable passion for pike on the fly, and I truly don't believe any experience will ever top the fishing at Cree River. It was as close to paradise for a guy in love with toothy fish on the fly as you can get. If I could visit every year, I would."
"Cree River Lodge is a truly outstanding destination for giant pike! In the vast river system there, you can catch huge 'gators in weedy backwaters, rocky river sections, and in wide-open lakes—loads of pike over 40 inches, with some pushing 50! If you get worn out by these monsters, take a break with a hot walleye bite, with most fish over 17 inches and some close to 30 inches. Finally, big grayling are waiting for the right spinner or fly pattern in the fastest river sections. The guides and accommodations are awesome, too"
"Made the trip with high expectations. All expectations were exceeded, blown out of the water. Was hoping to land a few pike on my fly rod and broke all my personal records with a 46" pike on the fly. 8 pike 40" or larger in 3 days. Thanks to the guides, Darren, Joel, Georgie for putting us in the right spots, again, again, again. "
"Patrick, Best Walleye fishing in 10 years! Thanks for doing a great job as our host! You continue to improve the wonderful experience. All the best. "
"Cree River Crew, We had an outstanding time at the lodge and on the lake this week. Biggest pike on the fly. Stef's biggest pike, grayling and walleye and summer whitefish! Meals were too good. Hope to see you again soon. Cree river lodge is like fishing in a dream. Thanks All! "
"Unreal. What I love about Cree River is you are in walleye, monster jack and grayling within minutes of the lodge - no 20 minute boat ride. I would recommend time at the rapids and the river. Four casts with 4 fish over 40 inches has to be the highlight!! The amazing food and shore-side lunches topped off the trip."
"Date: Aug 21, 2015 Thx for the awesome fishing + Great food and Company, Completely awesome, Thx."
"Date: Aug 21, 2015 Best fishing ever! 46.5" Jack, lots of Walleye! Awesome food, awesome people. Keep doing what your doin. thanks for the experience."
"Date: Aug 21, 2015 Great fishing, Great people, Great food, Tons of fun. Thanks for everything."
"Date: June 10, 2014 Greatest fishing experience I've ever had!"
"July 5, 2014. Thank you for the family atmosphere, good laughs + the BEST fishing these green eyes have seen. Also thanks for not sending us to the hospital during spoons! Cheers from Chicago! 29 inch Willy the Walleye. 45 inch Jack."
"Date: June 30, 2014. What a great time - food fish and food. Take the River trip and see the Canadian North. Thanks for the lesson on catching the Walleye. Pike fishing was Great. We both enjoyed it a lot."
"Date: July 5, 2014. My first 40" Northern, 28" Wally, and a very nice grayling to say the least it was a trip of firsts. So lucky to have had the chance to experience such a friendly and fun family. Can't wait to come back."