Northern Saskatchewan Bear Hunting at it's Best
Looking for a chance at a giant bear and catch trophy fish at one of Saskatchewan's top fisheries?
For all bear hunting information, please contact Patrick Babcock at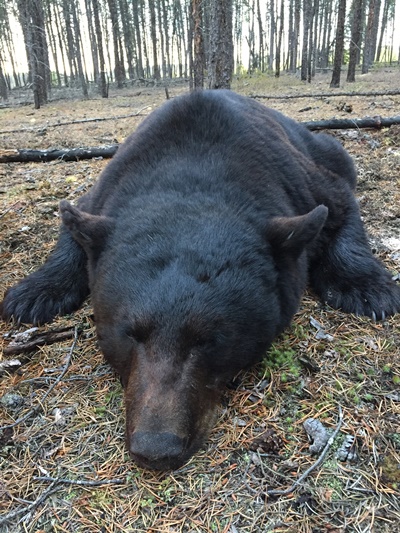 Low Pressure High Quality Bear Hunts
Our area is famous for bears, big black bears. With enough color phase variety to make you think about passing up that big boar for a chocolate, or cinnamon, or a blonde. Regardless of the color you are looking for, it's walking through our hunting territory, right now. Thankfully there is a very low rate of hunting pressure in our woods. Sitting in your tree stand, you just might the only human around for 5 miles, or maybe 10 miles.

Did we mention big bears? Well we mean big bears. Because of the low hunting pressure, these bears go year after year without seeing a hunter, and year after year to grow bigger. Patience is what our bear hunting game is all about. You could pull on the trigger, or pull back your bow, on the first decent bear you see, but that takes you out of the hunt early. A little patience will get you a shot at that big boar you were hoping to see.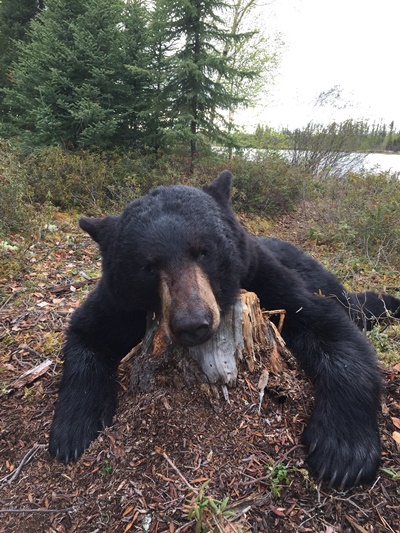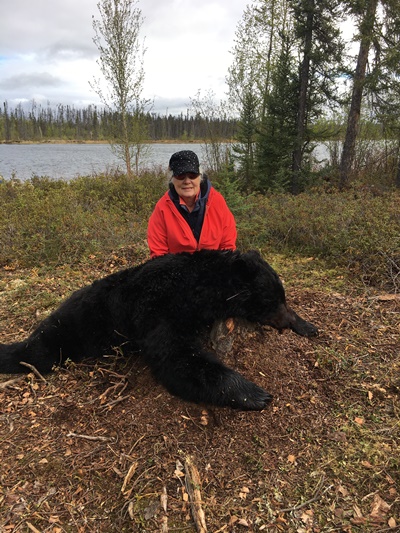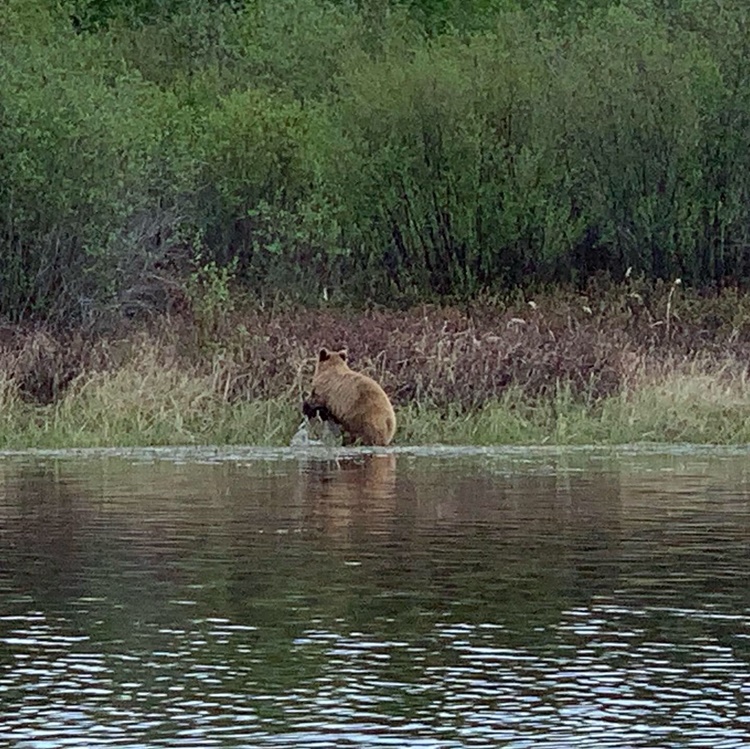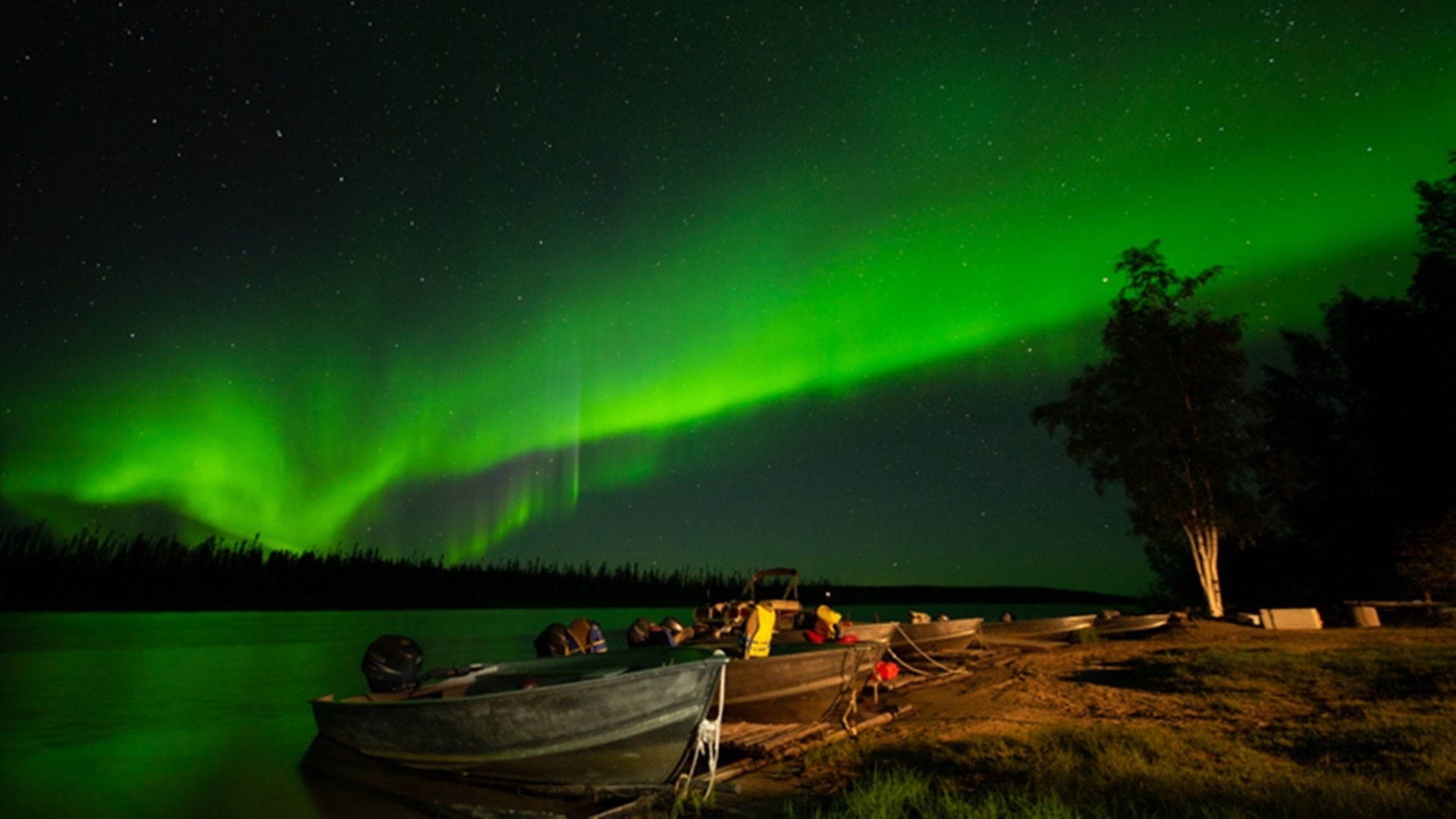 "As an outdoors writer for the past quarter century, I've had the opportunity to fish a great deal of water with a great number of people, from the far north to Mexico. I can truly state that never have I spent time with better, more experienced anglers than the folks at Cree River Lodge. I felt comfortable from the moment our boat touched the dock at Cree River until; sadly it was time to depart. The fishing, food and hospitality were top notch and I am eagerly awaiting round two with those big pike and walleye."
"I have fished a lifetime to catch the quality of fish I battled with at Cree River Lodge. The pike fishing is so insane I had to make time to fish for walleye and arctic grayling—I love first world problems like these."
"I have been in outdoor media industry for 11 years, and in that time I've been able to travel to some amazing places to fish. But I can say that of all the incredible locations I've visited, none has stuck with me more than Cree River Lodge. I have an insatiable passion for pike on the fly, and I truly don't believe any experience will ever top the fishing at Cree River. It was as close to paradise for a guy in love with toothy fish on the fly as you can get. If I could visit every year, I would."
"Cree River Lodge is a truly outstanding destination for giant pike! In the vast river system there, you can catch huge 'gators in weedy backwaters, rocky river sections, and in wide-open lakes—loads of pike over 40 inches, with some pushing 50! If you get worn out by these monsters, take a break with a hot walleye bite, with most fish over 17 inches and some close to 30 inches. Finally, big grayling are waiting for the right spinner or fly pattern in the fastest river sections. The guides and accommodations are awesome, too"
"Made the trip with high expectations. All expectations were exceeded, blown out of the water. Was hoping to land a few pike on my fly rod and broke all my personal records with a 46" pike on the fly. 8 pike 40" or larger in 3 days. Thanks to the guides, Darren, Joel, Georgie for putting us in the right spots, again, again, again. "
"Patrick, Best Walleye fishing in 10 years! Thanks for doing a great job as our host! You continue to improve the wonderful experience. All the best. "
"Cree River Crew, We had an outstanding time at the lodge and on the lake this week. Biggest pike on the fly. Stef's biggest pike, grayling and walleye and summer whitefish! Meals were too good. Hope to see you again soon. Cree river lodge is like fishing in a dream. Thanks All! "
"Unreal. What I love about Cree River is you are in walleye, monster jack and grayling within minutes of the lodge - no 20 minute boat ride. I would recommend time at the rapids and the river. Four casts with 4 fish over 40 inches has to be the highlight!! The amazing food and shore-side lunches topped off the trip."
"Date: Aug 21, 2015 Thx for the awesome fishing + Great food and Company, Completely awesome, Thx."
"Date: Aug 21, 2015 Best fishing ever! 46.5" Jack, lots of Walleye! Awesome food, awesome people. Keep doing what your doin. thanks for the experience."
"Date: Aug 21, 2015 Great fishing, Great people, Great food, Tons of fun. Thanks for everything."