Remote Fly-In Fishing At Its Best
Long before the floats ever touch that pristine water, you get a sense that there is something truly special awaiting. For some, it might be this unspoiled native land for as far as your eye or imagination can take you. Or maybe, it's the legend of Wapata Lake, with her endless beauty and countless breathtaking sunsets. But I'm thinking... call it a hunch, but I'll bet it's the thought of catching a giant Northern Pike. And I mean a giant. Pike so big, and so nasty, that the thrill of the catch and release will be etched in that special place that is reserved exclusively for the once-in-a-lifetime. Line rippin', reel burnin', rod bendin' Pike—that's what Cree River Lodge is about.
World Class Fishing at your Doorstep
Sunny Days are Great for Fishing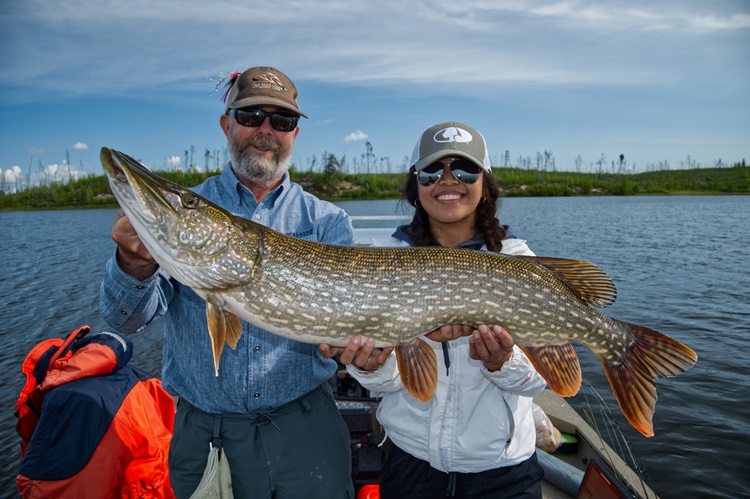 Bright sunshine on the tree lined shore sure makes for an awesome background for your trophy pics. By the way, the sun rises before 5:00 am during much of the fishing season, and sets past 10:00 pm. Do the math, that's plenty of time to catch a few trophy fish.
Many of our favorite fishing spots are just a short boat ride from the lodge. You won't have to travel far to start getting that hook in the water.
Rain or Shine - Fishing Guaranteed!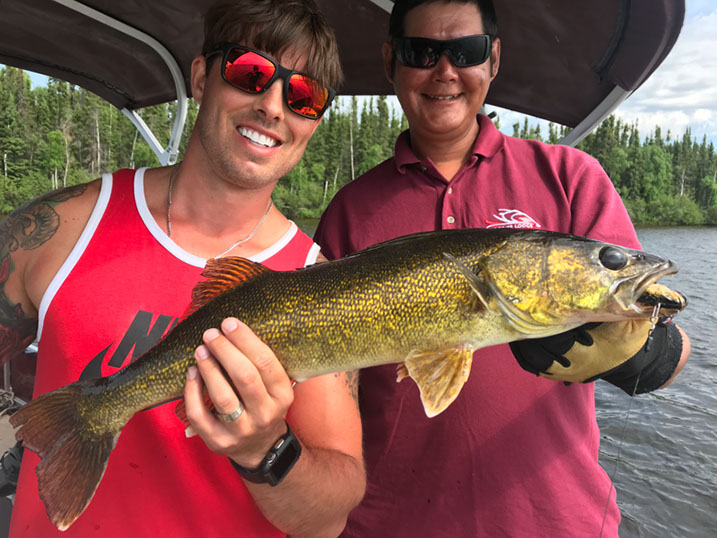 Rainy days only slow us down long enough to add another layer of rain gear. The fish are hungry no matter the weather and we have plans to go hook a few trophies each and every day.

You don't have to go far to start getting that feeling that the next trophy might be just within casting distance. There's no question, the fish are here.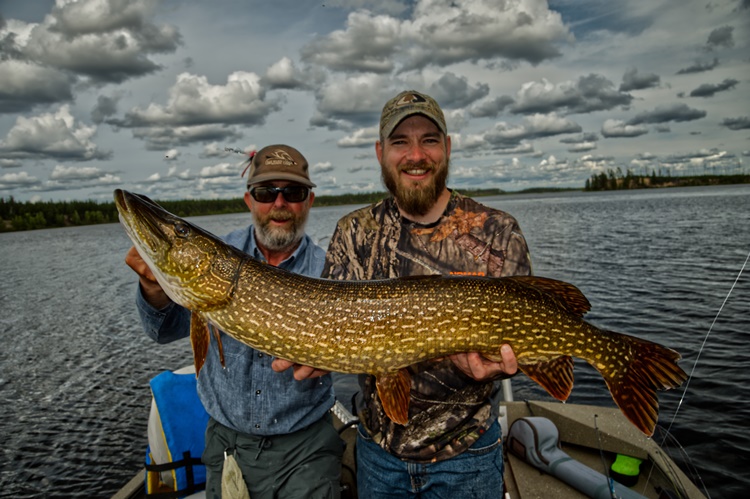 Every year countless Northern Pike in the 30" to 40" range are caught & released. Monster Northerns in the 40" to 50" range are not uncommon. A legitimate shot at battling giants over 45 inches makes for awesome fishing every day you're at the lodge.
Have we told you yet that Pike are a fantastic fighting fish, on spin casting gear or on a fly rod? Choose your tackle, cast your lure/streamer, and get ready for a battle.
Golden walleye in the 2 - 6 lb. range are abundant and are easily caught on simple rigging. During the month of August we have some of our best walleye fishing right off the dock.
A spectacular looking fish and top of the menu. You can catch Walleye and Pike with the same lures and same gear, but typically Walleye will be in deeper water. Your guides will help you pick the right spot.
As an added bonus to already unbelievable fishing, Arctic Grayling, the "Sailfish of the North" can be found a short 5 minute boat ride from the lodge.
These are a light tackle fish especially suited to fly fishing and their acrobatic fighting display must be experienced.
When you come to Cree River Lodge, you will not be disappointed with the facilities, food, service—or most of all—the fishing. Because we are a small lodge, we and our staff have the opportunity to give all our guests very personalized service. We take pride in giving our guests the type of service we like to receive when we are on vacation.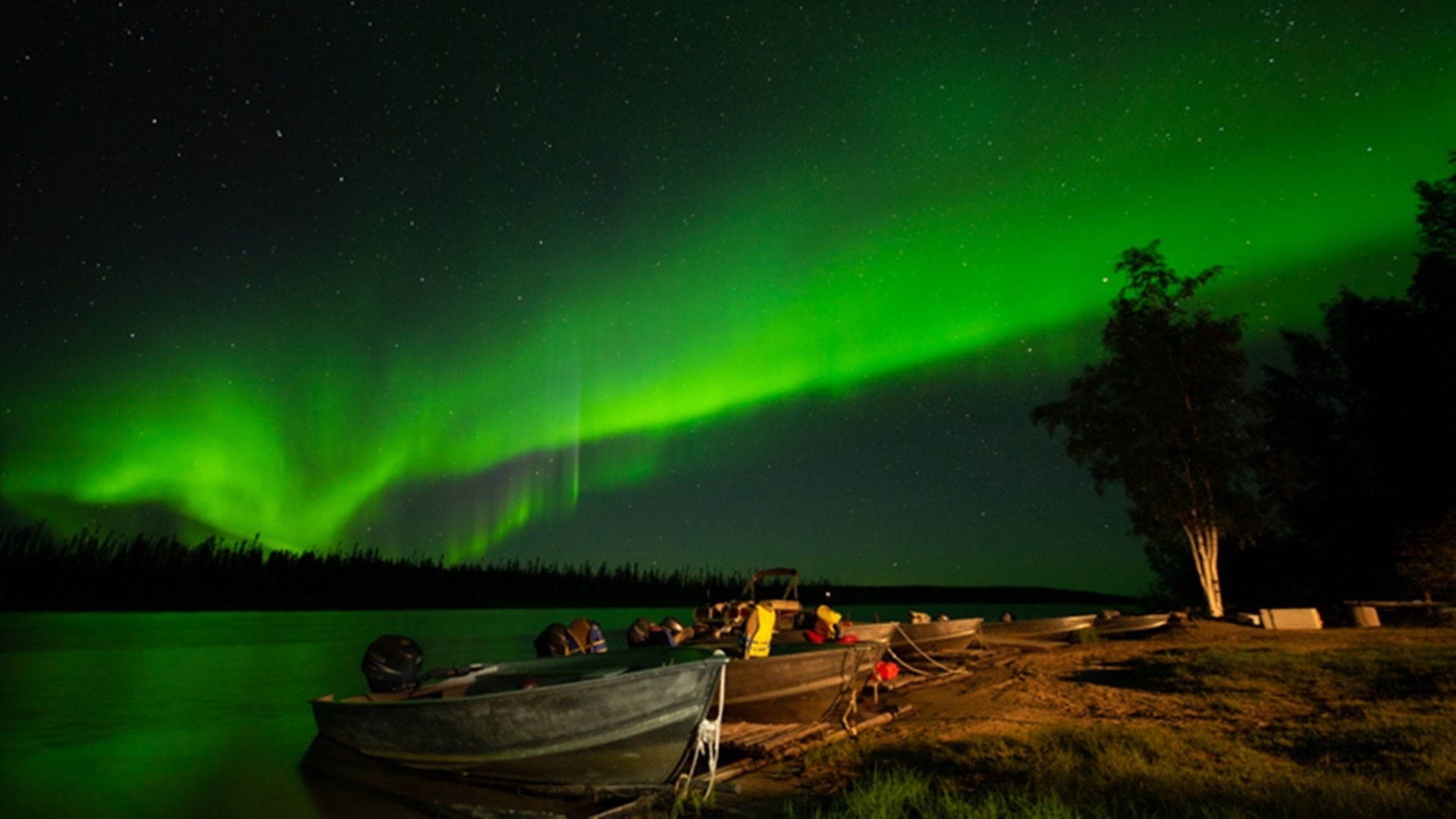 "First class accommodations and guides. Biggest Pike caught in 40 years (45"). The food was amazing."
"Fantastic week! Pike, Walleye, Grayling were all a blast. Team Cree River Lodge were all awesome! Thanks to all, greatly appreciated."
"First time fishing in 25 years, you guys made it so easy. Awesome people, great food and a super time. Hope to be back."
"Great lodge, great staff, great guides, and most importantly, great fish!"
"Hoy muchas pescas, no? Great guides, staff, fish. Thank you for the memorable week!"
"Amazing trip, tons of fish. Amazing staff and lodge. Dunes was a great day trip. Will be back, thanks all."
"Awesome times on the lake and at the lodge. Big fish. Thanks to all the staff at Cree River Lodge. River trip to the sand dunes was amazing and huge Jack on the river!!"
"Cree River Lodge is fantastic!! The only place in Canada where the fish bite better than the mosquitos!!"
"Good times, great fishing. Had a blast! Great meals and guides. Thanks for everything, especially the 45.5" Jack!"
"As an outdoors writer for the past quarter century, I've had the opportunity to fish a great deal of water with a great number of people, from the far north to Mexico. I can truly state that never have I spent time with better, more experienced anglers than the folks at Cree River Lodge. I felt comfortable from the moment our boat touched the dock at Cree River until; sadly it was time to depart. The fishing, food and hospitality were top notch and I am eagerly awaiting round two with those big pike and walleye."
"I have fished a lifetime to catch the quality of fish I battled with at Cree River Lodge. The pike fishing is so insane I had to make time to fish for walleye and arctic grayling—I love first world problems like these."
"I have been in outdoor media industry for 11 years, and in that time I've been able to travel to some amazing places to fish. But I can say that of all the incredible locations I've visited, none has stuck with me more than Cree River Lodge. I have an insatiable passion for pike on the fly, and I truly don't believe any experience will ever top the fishing at Cree River. It was as close to paradise for a guy in love with toothy fish on the fly as you can get. If I could visit every year, I would."
"Cree River Lodge is a truly outstanding destination for giant pike! In the vast river system there, you can catch huge 'gators in weedy backwaters, rocky river sections, and in wide-open lakes—loads of pike over 40 inches, with some pushing 50! If you get worn out by these monsters, take a break with a hot walleye bite, with most fish over 17 inches and some close to 30 inches. Finally, big grayling are waiting for the right spinner or fly pattern in the fastest river sections. The guides and accommodations are awesome, too"
"Made the trip with high expectations. All expectations were exceeded, blown out of the water. Was hoping to land a few pike on my fly rod and broke all my personal records with a 46" pike on the fly. 8 pike 40" or larger in 3 days. Thanks to the guides, Darren, Joel, Georgie for putting us in the right spots, again, again, again. "
"Patrick, Best Walleye fishing in 10 years! Thanks for doing a great job as our host! You continue to improve the wonderful experience. All the best. "
"Cree River Crew, We had an outstanding time at the lodge and on the lake this week. Biggest pike on the fly. Stef's biggest pike, grayling and walleye and summer whitefish! Meals were too good. Hope to see you again soon. Cree river lodge is like fishing in a dream. Thanks All! "
"Unreal. What I love about Cree River is you are in walleye, monster jack and grayling within minutes of the lodge - no 20 minute boat ride. I would recommend time at the rapids and the river. Four casts with 4 fish over 40 inches has to be the highlight!! The amazing food and shore-side lunches topped off the trip."
"Date: Aug 21, 2015 Thx for the awesome fishing + Great food and Company, Completely awesome, Thx."
"Date: Aug 21, 2015 Best fishing ever! 46.5" Jack, lots of Walleye! Awesome food, awesome people. Keep doing what your doin. thanks for the experience."
"Date: Aug 21, 2015 Great fishing, Great people, Great food, Tons of fun. Thanks for everything."
"Date: June 10, 2014 Greatest fishing experience I've ever had!"
"July 5, 2014. Thank you for the family atmosphere, good laughs + the BEST fishing these green eyes have seen. Also thanks for not sending us to the hospital during spoons! Cheers from Chicago! 29 inch Willy the Walleye. 45 inch Jack."
"Date: June 30, 2014. What a great time - food fish and food. Take the River trip and see the Canadian North. Thanks for the lesson on catching the Walleye. Pike fishing was Great. We both enjoyed it a lot."
"Date: July 5, 2014. My first 40" Northern, 28" Wally, and a very nice grayling to say the least it was a trip of firsts. So lucky to have had the chance to experience such a friendly and fun family. Can't wait to come back."