Premium Northern Pike Fly Fishing at it's Best
Leave the gear-chuckers behind with their lead jigs, their wobbly metal spoons, their minnows and leaches and fish like you were meant to be connected directly to the lake. There's just nothing that can compare to the feel of the fish on a fly rod.

Be prepared, hold on tight, and be patient. Once you hook one of these big Northern Pike on a fly rod, the battle is on. Big Pike have big power and they will test the bend in your fly rod and in the strength of your leader. This will be a fight, a fight that will only end when the fish decides it is tired and let's you have control. Then you can coax the fish to your guide's net where it will be handled and released safely.

The head shaking power of a Northern Pike is amplified all through the 9 feet of rod as you battle the fish to the boat. Now realize that the toothy predator lurking hungrily below the surface might be a 40" pike ready to dart like a torpedo to your streamer fly and now you have some excitement!!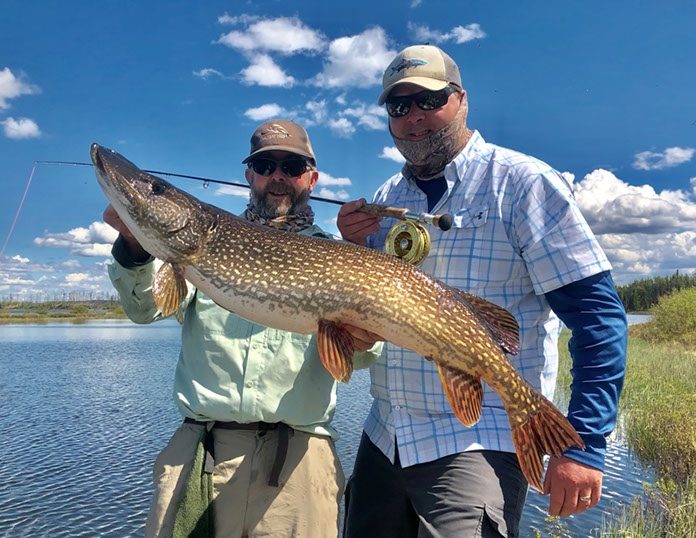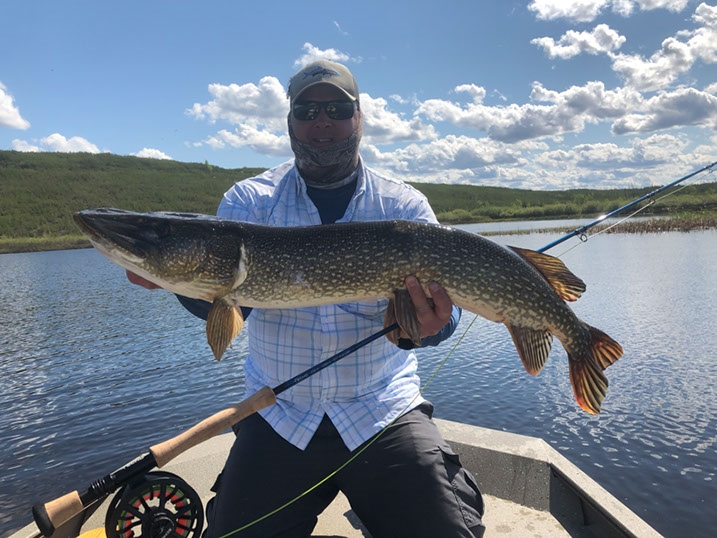 These tips are meant as a guideline only. Most of you will have your favorite equipment and lures that you know work well. We have an excellent assortment of tackle at the lodge so if there's something that you are needing once you get up here, or have forgotten, don't worry. We probably have it!
Pike Flyrods
9 or 10 wt rods with WF floating lines. Sink tips can be advantageous under certain conditions.
Pike Flies
Large streamers in a variety of patterns and colours, poppers and other topwater patterns can be a lot of fun at times.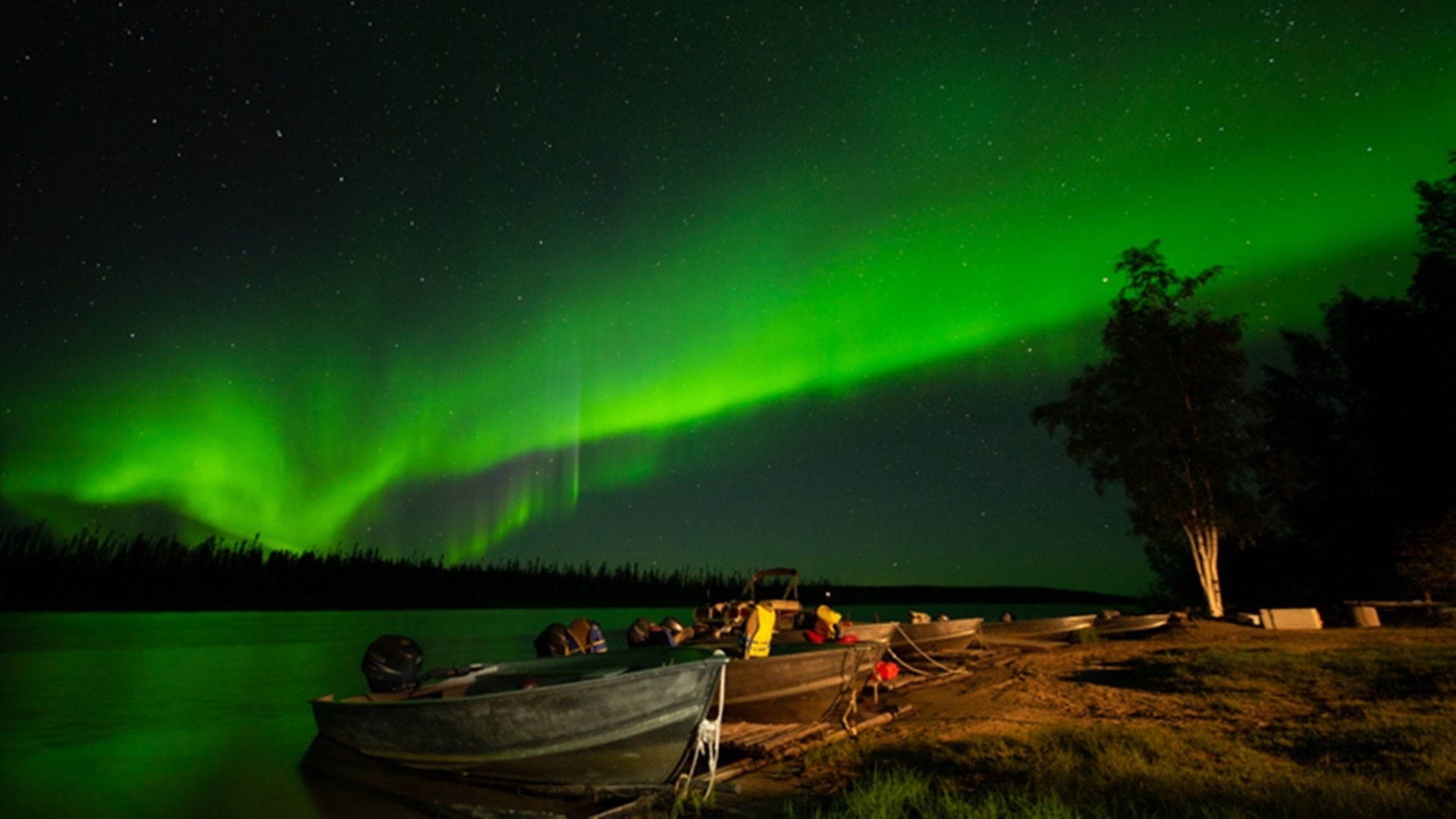 "As an outdoors writer for the past quarter century, I've had the opportunity to fish a great deal of water with a great number of people, from the far north to Mexico. I can truly state that never have I spent time with better, more experienced anglers than the folks at Cree River Lodge. I felt comfortable from the moment our boat touched the dock at Cree River until; sadly it was time to depart. The fishing, food and hospitality were top notch and I am eagerly awaiting round two with those big pike and walleye."
"I have fished a lifetime to catch the quality of fish I battled with at Cree River Lodge. The pike fishing is so insane I had to make time to fish for walleye and arctic grayling—I love first world problems like these."
"I have been in outdoor media industry for 11 years, and in that time I've been able to travel to some amazing places to fish. But I can say that of all the incredible locations I've visited, none has stuck with me more than Cree River Lodge. I have an insatiable passion for pike on the fly, and I truly don't believe any experience will ever top the fishing at Cree River. It was as close to paradise for a guy in love with toothy fish on the fly as you can get. If I could visit every year, I would."
"Cree River Lodge is a truly outstanding destination for giant pike! In the vast river system there, you can catch huge 'gators in weedy backwaters, rocky river sections, and in wide-open lakes—loads of pike over 40 inches, with some pushing 50! If you get worn out by these monsters, take a break with a hot walleye bite, with most fish over 17 inches and some close to 30 inches. Finally, big grayling are waiting for the right spinner or fly pattern in the fastest river sections. The guides and accommodations are awesome, too"