Arctic Grayling Fishing at it's Best
You probably didn't travel to remote Northern Saskatchewan with Arctic Grayling as your primary species to fish. But while you are here, now is the chance to take part in what is one of the top light tackle fishing experiences anywhere, any species. Arctic Grayling are a treat to fish, whether on a light weight rod throwing spinners and micro-spoons or on a 4 or 5 weight fly rod. The experience is unforgettable. But that's what Cree River Lodge is about, providing an outstanding fishing experience and a level of variety most fisheries can only wish for.

When the midges and caddis are hatching, the top water action is a fly-fishing dream, and light top-water lures on a spin-cast rod will land you plenty of fish as well. The catch is the start of an epic aerial display. Leaping from the water with twists and a somersault (or two) plus the brilliant flashes of colour from their iradescent bodies and you will believe the Grayling should be know as the "Acrobat of the North". It's not. Add the oversized dorsal fin to the visual display and the name "Sailfish of the North" needs no explanation.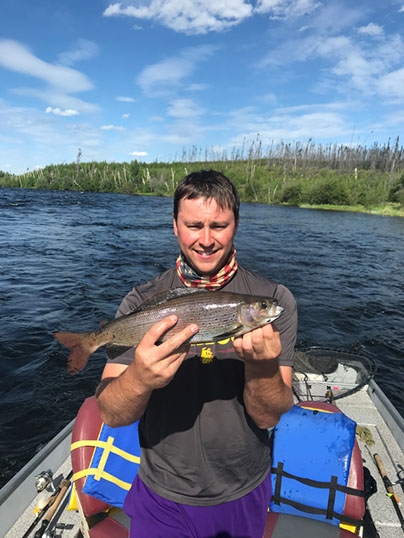 Arctic Grayling Fishing Tackle Tips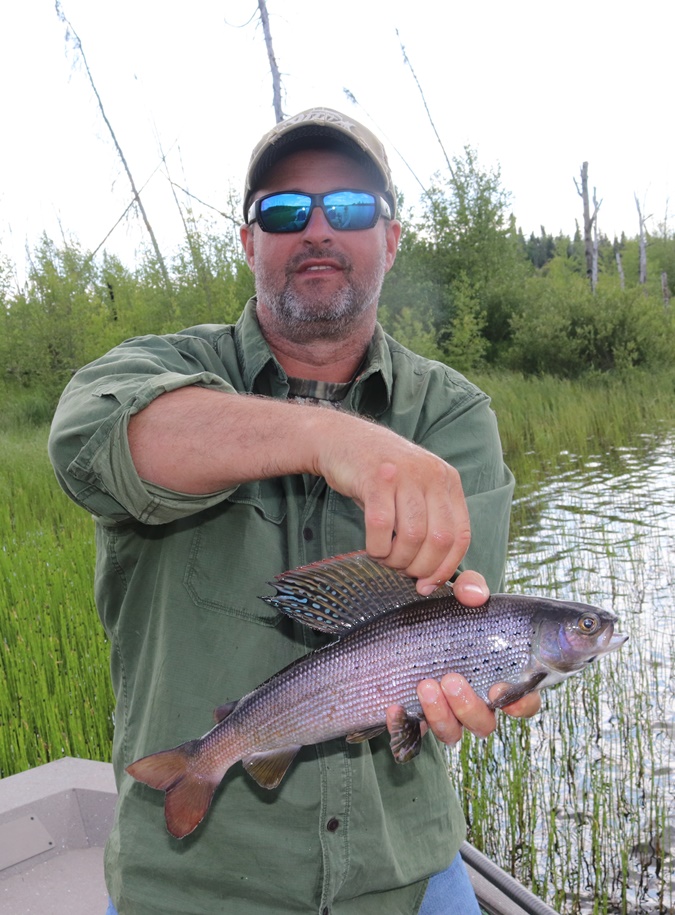 Rods
5' to 6' light to medium action
Reels
light spinning reels with 4 to 6 pound test mono
Lures
Small spinners (#00 - #1) Mepps, Blue Fox, Panther Martin, etc
Flyrods
4 to 6 wt rods with floating line
Flies
Dry – Sizes 8 to 14 – mayfly, caddisfly and stonefly patterns, heavily hackled for fast water. Foam patterns work well too.
Wet – sizes 6 to 12 – Nymphs of the same species as well as streamers and soft hackle patterns.
Fly Fishing for Arctic Grayling
Fly fishing for Arctic Grayling can be some of the best action on the water. With light weight fly rods and an assortment of dry flies and nymphs, the "sailfish of the north" can put on a spectacular leaping display and keep you busy casting and releasing these spectacular fish.
We don't want to give away all our secrets, some of those stay with our guides, but we have several decades of fishing and testing a variety of flies and techniques for casting to these fish in our rivers. From dry flies to specific nymph selections (see section above), we are happy to share them with you when you come to visit.

See more on our Fly Fishing for Grayling Page below.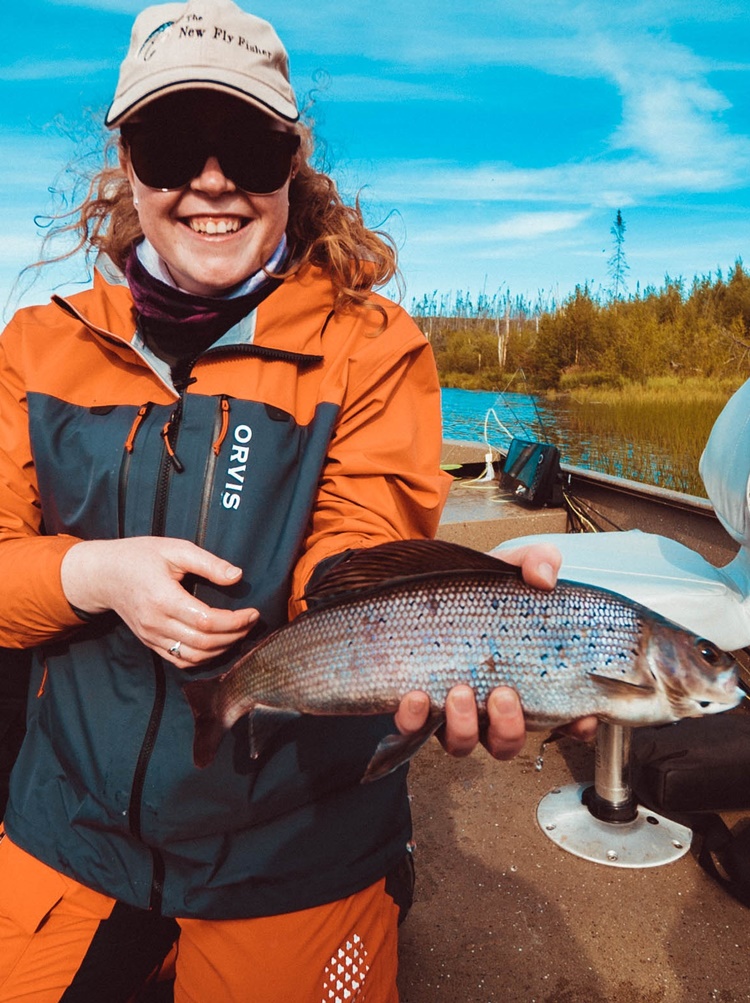 You don't have to go far to start getting that feeling that the next trophy might be just within casting distance...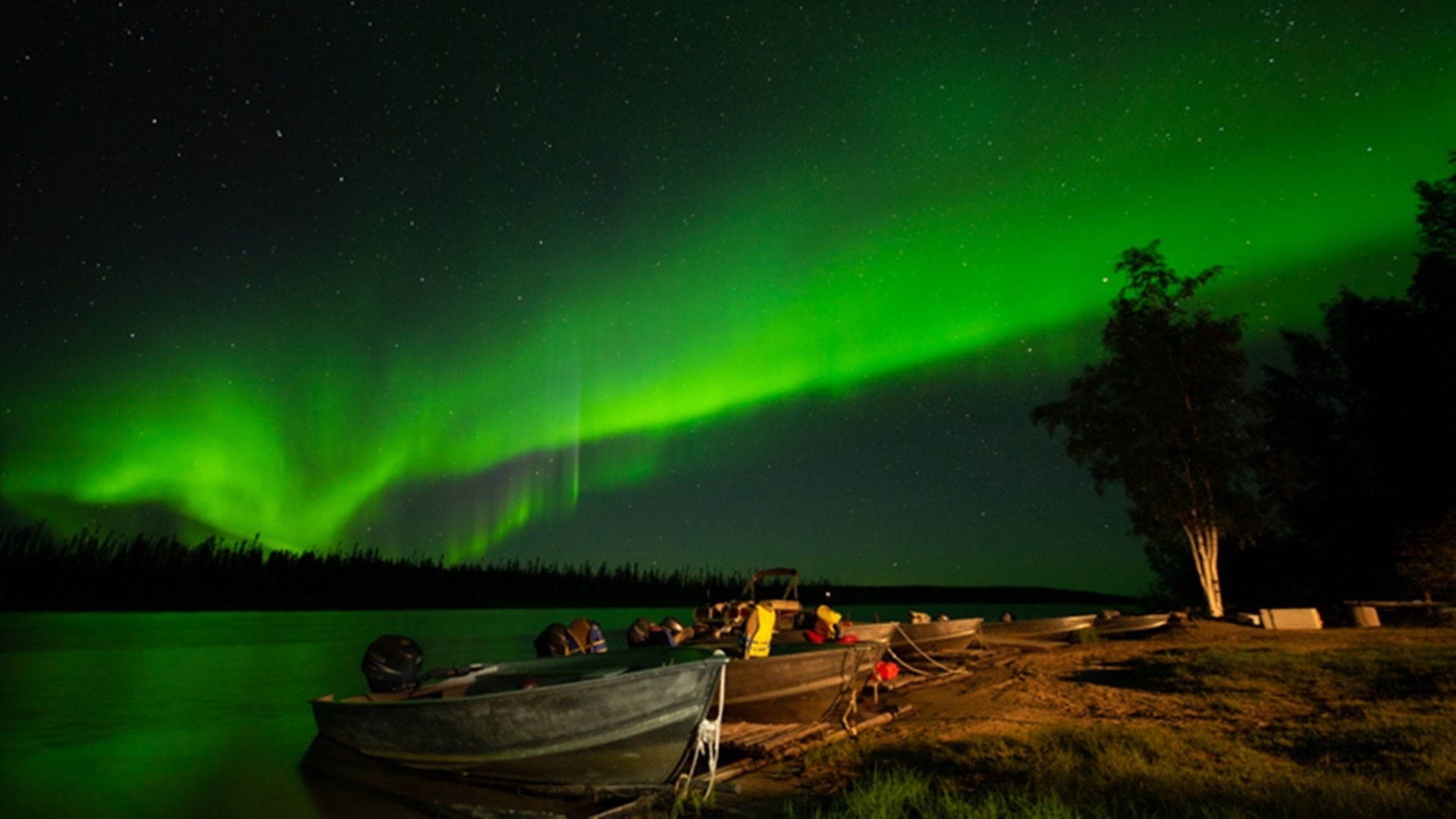 "As an outdoors writer for the past quarter century, I've had the opportunity to fish a great deal of water with a great number of people, from the far north to Mexico. I can truly state that never have I spent time with better, more experienced anglers than the folks at Cree River Lodge. I felt comfortable from the moment our boat touched the dock at Cree River until; sadly it was time to depart. The fishing, food and hospitality were top notch and I am eagerly awaiting round two with those big pike and walleye."
"I have fished a lifetime to catch the quality of fish I battled with at Cree River Lodge. The pike fishing is so insane I had to make time to fish for walleye and arctic grayling—I love first world problems like these."
"I have been in outdoor media industry for 11 years, and in that time I've been able to travel to some amazing places to fish. But I can say that of all the incredible locations I've visited, none has stuck with me more than Cree River Lodge. I have an insatiable passion for pike on the fly, and I truly don't believe any experience will ever top the fishing at Cree River. It was as close to paradise for a guy in love with toothy fish on the fly as you can get. If I could visit every year, I would."
"Cree River Lodge is a truly outstanding destination for giant pike! In the vast river system there, you can catch huge 'gators in weedy backwaters, rocky river sections, and in wide-open lakes—loads of pike over 40 inches, with some pushing 50! If you get worn out by these monsters, take a break with a hot walleye bite, with most fish over 17 inches and some close to 30 inches. Finally, big grayling are waiting for the right spinner or fly pattern in the fastest river sections. The guides and accommodations are awesome, too"